James Hardie Siding
Transforming Your Home Into Your
Dream

Home…
James Hardie provides a complete line of siding products including soffit, trim, and fascia that are all engineered for your specific climate. Each component kept beautiful for decades with a factory-applied, baked-on coating of paint that was engineered to stand up to the high UV levels that fade most field-applied paints in just a few short years.
James Hardie siding with ColorPlus® Technology offers you a complete siding solution.
The HardieZone™ System: All James Hardie products are engineered for YOUR specific climate based on eight individual climatic variables of temperature range, humidity, snow, hurricane, UV, rainfall, hail, and topographical factors. Learn more…
ColorPlus® Technology is an innovative product with a baked-on finish, providing unprecedented color consistency in a wide range of colors. When the painting of your home is left to painting on-site you can not be assured of a quality and consistent finish. However products with ColorPlus® Technology provide you years of lasting beauty and peace of mind with a 15-year finish warranty.
HardieWrap™ Weather Barrier is a premium, non-woven water-resistive barrier that delivers superior air resistance to reduce energy loss and reduces water intrusion while releasing moisture vapor from inside to dry out the wall cavity.
Limitless Design Options: Wide array of design options including HardiePanel™, HardieTrim™, HardiePlank™, HardieShingle™ and more. Learn more…
#1 ROI: Ranked #1 in ROI by Remodeling magazine for the 4th year in a row.
30-Year Warranty: Outstanding 30-year limited, transferable warranty offers non-prorated product coverage for the entire 30 years.
About HardieZone™
Whether it's sheets of rain, dry heat, freezing temperatures, ice and snow, or hurricane force winds, siding is under constant attack. As the most trusted brand of siding in America, James Hardie has taken its level of defense to an even higher level, with siding that's engineered for climate, The HardieZoneTM System based on eight individual climatic variables.
(click diagram to enlarge)
Design Options
---
HZ5™ Products

The HZ5™ product line is designed for climates with freezing temperatures, extreme seasonal temperature variations, and snow and ice. To ensure its beauty matches its durability, the surface is engineered for higher performance, giving it superior paint adhesion and moisture resistance. HZ5™ products don't just perform well in cold, nasty climates… they're engineered for it.
HardieZone™ System

Using eight climatic variables, James Hardie has arrived at these distinct climatic zones. Though different, there are common variables in certain regions, allowing two product lines to be engineered; one product line for zones 1 through 5, and another product line for zones 6 through 10.
HZ10™ Products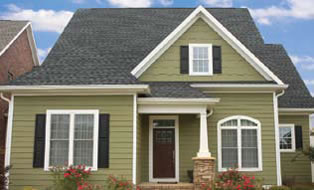 This siding was engineered for areas with hurricane-force winds, salty sea air of the coast, and the brutal, humid heat of the Deep South. HZ10™ boards resist cracking, splitting, rotting and swelling season after season. They also feature a unique primer that outperforms generic fiber cement primer with improved paint adhesion and moisture resistance.