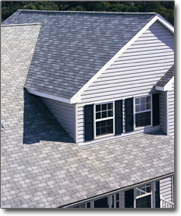 XT™25 Shingles
The Extra-Tough Three Tab Shingle
It's a fact: XT™25 gives your home better protection than any other shingle in its product class.
Thanks to a tough fiberglass base, XT™25 is extra resistant to wind stress to help prevent tearing and blow-off. In fact, XT™25 carries the UL 997 label so it will resist winds up to 60 mph. Special sealant strips use the sun's heat for additional weatherproofing. And extra asphalt makes it a heavier, more durable shingle compared to basic three-tab strip shingles. When you consider all these benefits, its modest price of just a little more than ordinary shingles makes XT™25 an excellent value.
Both moist cool and warm climates can encourage the growth of fungus on asphalt shingles. The result is unsightly green and black streaks that are especially noticeable on light-colored roofs. To keep your shingles looking their best, XT™25 becomes FungusBuster®25 by the addition of copper granules to the shingle surface.
XT™25 and FungusBuster 25 Product Specifications
Fiberglass composition
230 lb. per square in Lake Central and North Central
225 lb. per square in East Coast and Northeast
Dimensional tolerance ± 1/16"
UL Class A Fire Resistance
ASTM E108 Class A Fire Resistance
UL Wind Resistance Self-Sealing (ASTM D3161)
UL 997 Wind Label – 60 mph Wind Resistance
ASTM D3462 (Tear Strength)
Conforms to BOCA building code requirements
extra protection
Both XT™25 and FungusBuster 25 are backed by a 25-year limited transferable warranty against manufacturing defects and five years of extra protection in the early years when the homeowner needs it most. (See warranty for specific details and limitations.) FungusBuster 25 is warranted against algae or fungus growth for 10 years."
---
Color Palette

(click palette to enlarge)
Colors are approximate and not all colors are available in all areas.
Please see your American Windows & Siding representative for actual color swatches.