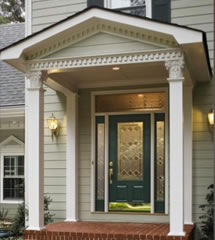 ProVia Entry Doors
Homeowners who buy quality, buy ProVia.
ProVia offers four brands of fiberglass and steel professional-class entry doors that meet the highest standards for beauty, durability, security and energy efficiency, available in custom sizes and finishes.
The Embarq series offers the most energy-efficient door in the U.S. The Signet fiberglass series delivers an accurate representation of woodgrain. The Heritage series offers classic style of true woodgrain with the durability and security of fiberglass. And the Legacy steel door delivers unparalleled security.
Explore the four lines of ProVia custom entry doors:
Did You Know?
The #1 best value project for mid-range home improvements is installation of a new steel entry door for which you will recoup 96.6% of the cost, according to Remodeling Magazine.
Among the Top 10 best value upscale improvements is installation of a grand entry fiberglass door, for which you will recoup 64% of the cost..
Embarq™
43% Thicker than Standard Exterior Doors
Dual Perimeter Seal
Most Energy Efficient Door in the U.S. Market
Same Quality and Features of our Signet Fiberglass Series
14 Stain & 16 Paint Finishes
Available as single doors only
Signet®
High Definition Woodgrain Fiberglass
Cherry, Mahogany, Oak & Fir Species
High Energy Efficiency
Dovetailed Hardwood Stiles and Rails
14 Stain & 16 Paint Finishes
Available as single or double doors
Heritage™
Enhanced Woodgrain Fiberglass
Oak and Hemlock Textures
High Energy Efficiency
Finger-jointed Oak Laminated Stiles
7 Stain & 16 Paint Finishes
Available as single or double doors
Legacy™
20-Gauge Steel
Smooth & Woodgrain Textured
High Energy Efficiency
Tab & Slot Mechanical Interlocks
7 Stain & 16 Paint Finishes
Available as single or double doors